Gundula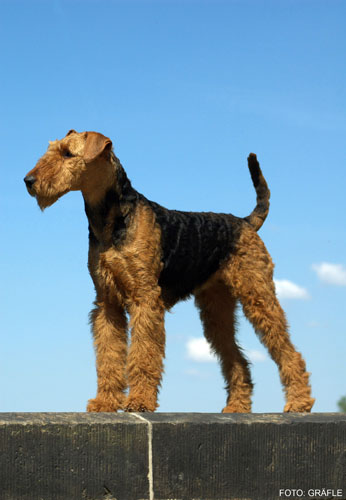 Hello, my name is Gunda van't Asbroek, called Gundula. I am Belgian from the elite breed of the Royal Society Saint Hubertus and I live in Germany.
My mother is Beauty van't Asbroek and my father is Commander van't Asbroek.
With 4 years, I am fit as a fiddle. As Youth Champion Austria, CACIB AT, Cruftsqualification and Youth Winner Saxony, Champion VDH,Bundessieger Tulln,Sieger Rostock. I can often be admired at dog shows.
I am well-grown, have a wiry, very well pigmented coat, a strong set of teeth, an excellent head and ears. Furthermore, I am charming, very friendly and full of spirits.
After my first litter, I am going to take my Companion Dog Exam. I also enjoy tracking work although waiting at the "Verweiser" does not work yet.
The Stamina Test is planned, but offers are rare this year.
By the end of 2008 I took my breed-accreditation test.
You see, my mistress works a lot with me, not only with my coat.
By the way, I am only groomed to keep my coat in good shape. My mistress does the grooming herself and offers her help for your Airedales. I can highly recommend her, also for dog show grooming.
Moses is gone at the 14.11.2011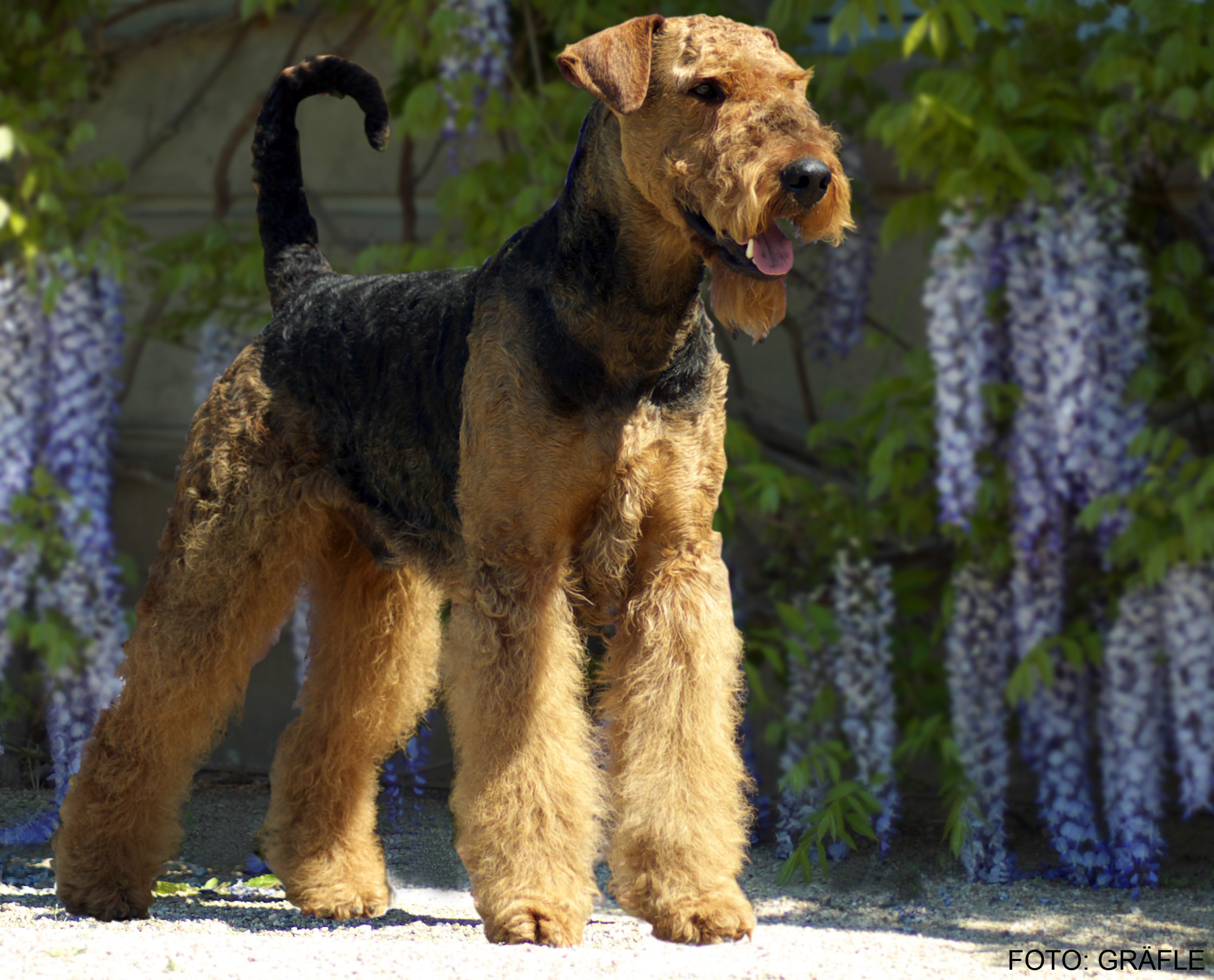 I am a great Airedale stud dog. My mother is Scala of the Bukovina GDR sports line and my father is Stargus Galileo GB champion line.
As Austrian Champion, Winner in Stuttgart, Champion VDH, Champion KfT, I can often be admired at dog shows.
I enjoyed the BH and stamina test next to a bicycle.
At the moment I am preparing for the VPG. Furthermore, I jump over barriers, run through tunnels and over bars and in good speed and required circles around the dog square. That is called tournament sport. My dog guide is always on my side and has to be really fit to keep up with me. I like tournaments. Already, I did my first team contest. We became third best team out of nine. That was wonderful.
My second hobby is tracking work and I am going to take my test this year.
Ten dogs of my offspring can be admired at the Kennel of Dornheide. They became best breeding group at the Possen in September 2008.
…Ten puppies in the Kennel of Elbsandstein.
Albina and Amigo are trained at the dog square to take the VPG.