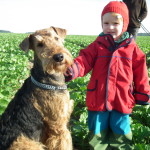 Airedale on our side- look, you'll see and inspire you for this great race. Ask us. We are avid Airedale people recognized breeder
of (FCI) and the ( VDH) Terrier Club.
Did you know, that the Airedale Terrier is the largest in England and hence are colled " KING OF THE TERRIERS".
THE KINGS…..
The Kings of the Terriers. Even U.S. President WARREN HARDING had an Airedale " LADDIE BOY".
As breeder we begin to wtite our history.
The puppies from Batseba are born at the 30.10.2013 Our – litter D 6 girls and two boys.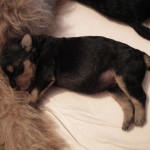 All puppies from Gundula
The first litter of ten puppies, our A- litter, is 4 years. Our B-litter of eight puppies is 2 year. Our C – litter of seven puppies is one year. and All dogs children enjoying perfect health and be loved by their families. Sporting success is also set. Two dogs of A litter passed her exame as " Begleithund" and Apollo passed the exame as "Schutzhund". The scions of or stud dogs in the Kennel " Dornheide" are 5 years and two of them passed a special exame.
We breed Airedales because we lave them.
……….C U R I O S ………?
Enjoy browsing on our site.
We don't have puppies every year. But if all goes well we expect in the End of Oktober PUPPIES from our great Batseba.
Look forward of a puppie from us !
We look forward t o y o u quite sure.
We invite you to to visit our page" Artikel Archive" and there you could find all news about us.
for example
22.10. Breederportrait published
15.10 just married